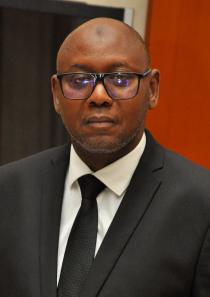 Communication Officer
Tahirou Gouro is a Journalist and graduated in Communication with more than 15 years of experiences in the area of Communication and journalism, in particular with the United Nations and the international NGOs. For years, he was Communication Officer at UNICEF Niger, then Public Information Officer at the United Nations Mission for the Stabilization in Haiti (MINUSTAH) in Port Au Prince, Haiti, Information/Communication Specialist at the United Nations Development Program (UNDP) Burkina Faso, then, Communication and Public Relations Specialist of the Office of the Resident Coordinator of the United Nations Cape Verde, then Information/Communication Specialist, multifunctional platform for the second time at UNDP Burkina Faso and Public Relations Coordinator for the Multi Year Assistance Program (MYAP) at Helen Keller International (HKI) and Catholic Relief Services (CRS) Niger Office.
He is currently working as Communication Officer at the sub-regional Office for West Africa of the United Nations Economic Commission for Africa (ECA) based in Niamey, Niger. He is very familiar with the UN Agencies and the international NGOs.
He is fluent in French and English, fair in Spanish, beginner in Portuguese.